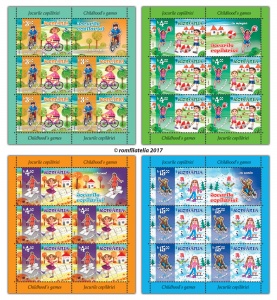 "Where am I from?
I'm from my childhood.
I'm from my childhood like
I'm from a country!"
Antoine de Saint-Exupery
Childhood, full of innocence, of cheer, happiness and of joy represents the most beautiful time of our lives. It is a space of full relaxation and continuous joy, in which dream becomes reality, and reality turns into fairytale, where game and game-play are the most important activities.
Man's first age, childhood, is associated with living in an atmosphere of game, that which is why, Romfilatelia presents through the 4 postage stamps of the issue dedicated to the day of June 1st, a journey through time, toward the CHILDHOOD'S GAMES.
Regardless of spending our childhood in the city or in the countryside, there are a few games that link us to the beautiful and carefree moments of the first years in life.
Childhood is incomplete if you don't have memories regarding bikes. There is no childhood without skinned knees and bicycles. Whether we race, it had training wheels or not, or that we borrowed one for a lap of the block or the park, most of us have experienced riding a bike. And because we were very proud of our bikes, there wasn't a day where we didn't take "trip". Riding a bike was an extraordinary experience and is considered a life-long skill; once learned it cannot be forgotten.
The bicycle is illustrated on the stamp with the face value of Lei 3.50 and is the preferred vehicle of little ones.
"It's made to be hit, / Hit it soft or hit it hard, / With your foot or your hand, / Have no fear, it won't get hurt. / It's hit but it doesn't cry because it's a …… ball!"

With polka dots or stripes, flowered, colored and absolutely necessary for games like "Ducks and hunters", "Castle", "Countries", "Little donkey", "Square", the ball is represented on the stamp with the face value of Lei 4.

Whether it's interior spaces, or exterior spaces, the ball game would offer the possibility to spend free time with friends. If we call "la marelle" or "cascayu" we call nothing else but the loved childhood game, namely the Hopscotch, which is represented on the stamp with the face value of Lei 4.50. Of all childhood games, this is one of those that provokes you to move, good will and addresses both children and parents.
This is perhaps the most widespread game of children, most often played in a series of geometric figures, quadrilaterals, semicircles, numbered, drawn on asphalt with chalk. Depending on the area, it may look in various ways, may be longer or shorter, more complex or simpler.
Straying flakes have dropped since last night / Until now – and it's fine weather;
Winter on the lane, by George Cosbuc
Winter has always been a season beloved by children. The immaculate white in which the ground dresses, the ski slope in front of the house, the Sled and Snowman are represented on the stamp with the face value of Lei 15.
The season of snowflakes brings children and adults lots of happiness, whether it's going sledding or snow fights, each of us finds a way to enjoy the fairytale atmosphere of the snow landscape.
The snowman is the star of the winter with unforgettable memories, for which building it was one of the most fun activities.
Going sledding has made happy generations after generations, from children, to parents to grandparents alike. It is a special memory of childhood that each child should have.
These were and still are the true joys of winter, which have made our childhood beautiful.
On the first day cover a game with the Kite is represented, which is, without a doubt, one of the unforgettable joys of childhood. Made of colored paper, the surprising kite would bring a special delight when you would see it climbing into the sky and especially when it was a self made kite.
The proofs of the stamps of the Childhood's games issue were based on drawings created by Anne Margret Riess, "Ioan Petrus" High School, Otopeni, 2nd grade.
Romfilatelia wishes a sincere happy day to all children from Romania and abroad, on their special day!