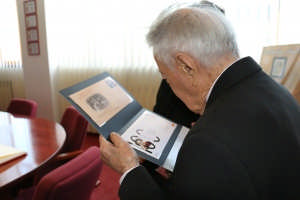 On Thursday, September 29th, 2016, Romfilatelia received at its headquarters the visit of Mr. Mihai Sora, and his wife, Mrs. Luiza Palanciuc – Sora.
Mr. Sora gladly accepted to be the guest of Romfilatelia, on which occasion it was discussed the recent philatelic campaign "People, facts and values" dedicated to some outstanding personalities of the Romanian society, such as himself.
The two guests had the opportunity to closely know and admire many products made by Romfilatelia, from exhibition panels to special philatelic products, which have resulted, over time, in important tools for the promotion of the Romanian cultural, artistic and historic heritage.
Likewise, during the meeting the guests also had a chance to discover more things about the universe of stamps, about the history of the Romanian postage stamp, finding out about the first stamp issued nationally, the famous Bull's Head, as well as about stamp collecting as a hobby which supports and promotes education.
The visit ended with congratulations addressed to Romfilatelia's team for its work and passion in making the Romanian stamps. Mr. Sora being very kind to add, with his melancholic humour, a few words in the company's book of honour: "Overwhelmed by years, I put my signature here."
Photos taken after the meeting were another moment of excitement and pleasure, for both the two guests and the representatives of Romfilatelia, transforming this day into a special memory to treasure.