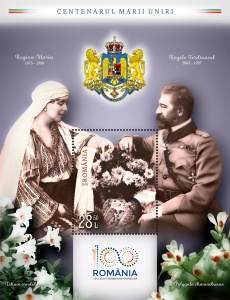 To celebrate the great historical achievements of Romanians of 100 years ago, Romfilatelia introduces into circulation Friday, November 16th, 2018 the postage stamp issue Centenary of the Great Union.
The philatelic issue consists of a perforated souvenir sheet with the face value of lei 28.50, illustrated with a picture of King Ferdinand I and Queen Marie, in a intimate posture, looking at a vase with flowers.
On the souvenir sheet are also illustrated two species of flowers appreciated by the sovereigns of the Great Union, namely Polygala chamaebuxus, prized by Ferdinand I, who remembered his childhood, and Lilium candidum, a lily beloved by the Queen Marie, whom he also painted.
Another element of the souvenir sheet is the coat of arms of the Greater Romania.
The Great Union of 1918 was the result of a country project to which the whole nation contributed, from the politicians and officers who managed the situation created by the World War I, to the peasants who fought on the battle field and defended their Homeland with the gun in hand. When the war broke out, the Romanians were widespread in three countries – the Kingdom of Romania, Austria-Hungary and Tsarist Russia. The world's conflagration has brought the Romanians everywhere difficult attempts: concentration on the front, placements in camps, refugees, illness, famine etc. However, at the end of the war, the situation returned to their favour and the possibility of unification into a single state was created.
The three Romanian territories united with the mother country in three stages, during the year 1918, on March 27th (Basarabia), November 28th (Bucovina) and December 1st (Transylvania). 
We would like to thank the National Archives of Romania for the support granted for the achievement of this postage stamp issue. 
The  postage stamp issue CENTENARY OF THE GREAT UNION will be available on Friday, November 16th 2018, in Romfilatelia' own shops network in Bucharest, Bacau, Brasov, Cluj-Napoca, Iasi and Timisoara and online on https://romfilatelia.ro/store/. The postage stamp issue is completed by the "first day" cover, and, the perforated souvenir sheet, as page composition.
For further information, please contact the Public Relation Office:
Tel: 021 / 337 24 42