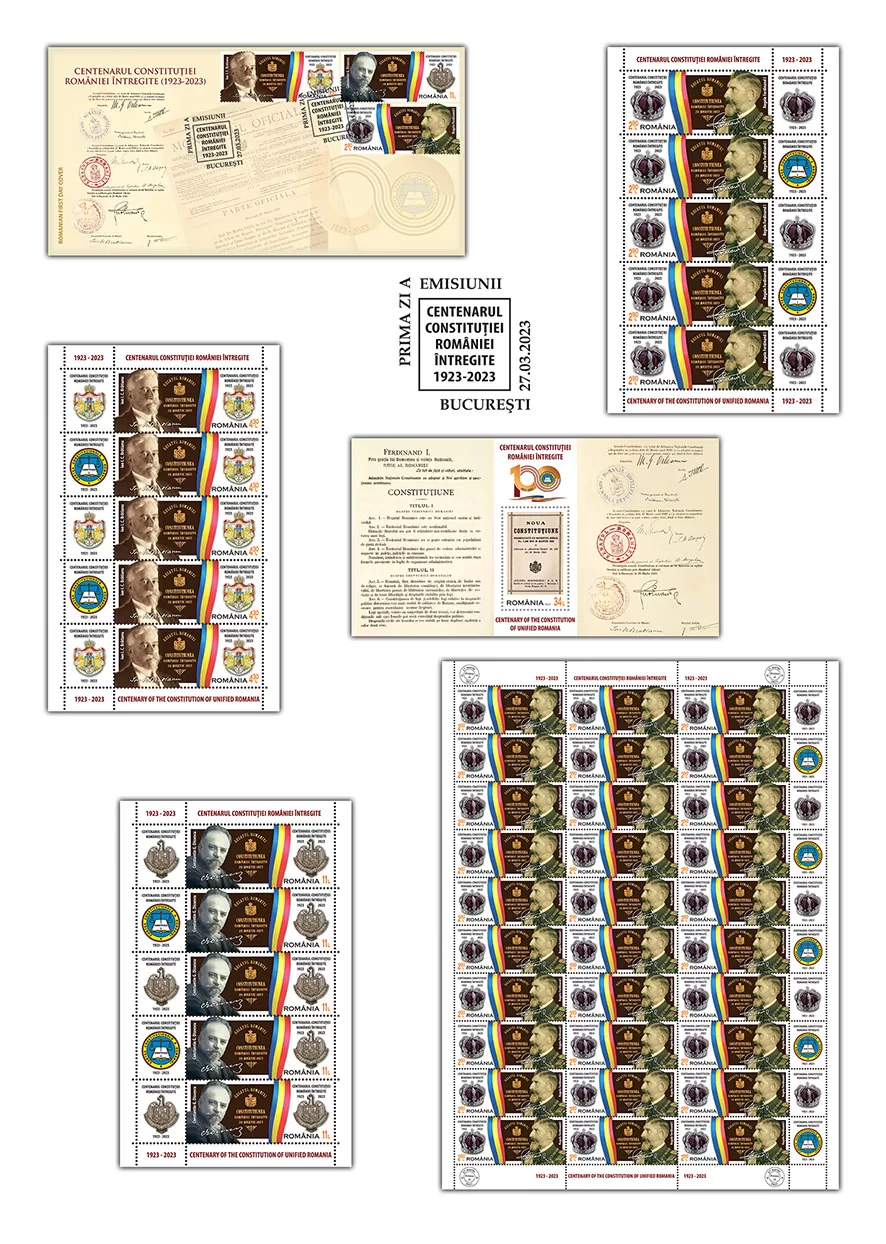 On March 28th, 2023, it will be 100 years since the adoption of the first Constitution of Greater Romania, as a single fundamental law for all the historical provinces unified with the mother country Romania, on December 1st , 1918.
To mark this historic event, Romfilatelia will introduce into circulation on Monday, March 27th, the postage stamps issue entitled Centenary of the Constitution of Unified Romania, consisting of 3 stamps, a perforated souvenir sheet, as well as a First Day Cover.
On the stamp with the face value of Lei 2.90, the image of King Ferdinand I, known as the Unifier, associated with that of the steel crown with which he was crowned in Alba Iulia.
The stamp with the face value of Lei 4.30 depicts the image of the craftsman of the Fundamental Law and other important moments of Romania's history, Ion I. C. Brătianu, alongside with the coat of arms of the Romanian Kingdom.
On the stamp with the face value of Lei 11 are reproduced the image of the liberal jurist and senator Constantin G. Dissescu, the rapporteur of the Fundamental Law of 1923 and the "creator of the branch of Romanian constitutional and administrative law", as well as the image of the coat of arms of the Romanian Senate.
The stamp of the souvenir sheet of the issue with the face value of Lei 34, presents in facsimile the cover of the volume with the text "New Constitution", framed by two pages of the act of promulgation signed by King Ferdinand I.
Through its principles, the Constitution in 1923 was one of the most advanced and democratic in Europe at that time.
Romfilatelia thanks the representatives of the Constitutional Court of Romania for the documentary and photographic support granted to the development of this postage stamps issue.
Happy anniversary, to the Constitution of Romania, on the occasion of its centenary!
The philatelic issue will be available starting Monday, March 27th, 2023, in Romfilatelia's shops network in Bucharest, Bacau, Brasov, Cluj-Napoca, Iasi and Timisoara and online on https://romfilatelia.ro/store/. 
For further information, please contact the Public Relation Office:
Tel: 021 / 336 93 92