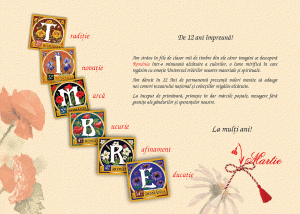 Timbre, the word formed by the stamps of the block, represents the Romanian equivalent of the English stamps.
We've gathered in albums' pages thousands of stamps through the images of which one can discover Romania in a wonderful composition of colours, a fascinating world in which we find the universe of our spiritual and material feelings.
In 12 years of continuous presence we've gathered numerous values meant to add new treasures to the national patrimony and to the collections meticulously made.
At the beginning of spring, please receive as gift the Romanian postage stamps, messengers without borders of our thoughts and hopes.