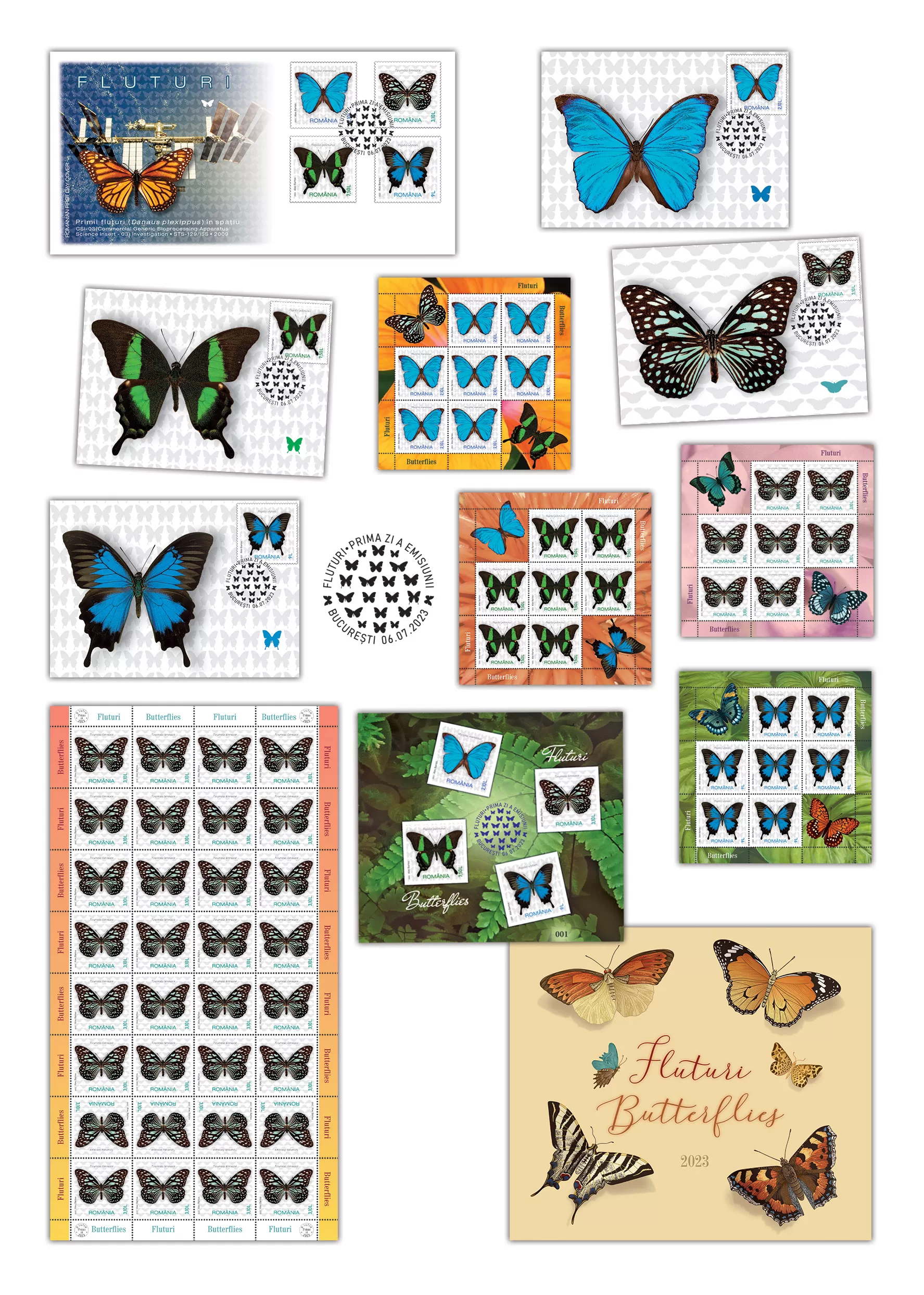 Butterflies represent the best-known and best-studied group within the order Lepidoptera, which includes insects with complete metamorphosis, which in the adult stage have their bodies covered with numerous microscopic scales (from the ancient Greek, λεπίς lepís = scale, πτερόν pterón = wing).
The duration of the biological cycle differs by species, and the duration of the adult stage ranges from a few days to over half a year in species that overwinter as adults.
The postage stamp issue Butterflies, which Romfilatelia introduces into circulation, on Thursday, July 6, 2023, presents the species: Morpho menelaus, Tirumala limniace, Papilio palinurus, Papilio ulysses and Danaus plexippus.
Morpho menelaus (Linnaeus, 1758) is illustrated on the stamp with the face value of Lei 2.10. Is a widespread species in Central and South America, from Panama and Costa Rica to Peru, Bolivia and South Brazil (the state Rio Grande do Sul), the adults having the wingspan of about 15 cm.
Tirumala limniace (Cramer, [1775]), is illustrated on the stamp with the face value of Lei 3.10. Is a species widespread in South Asia, from the United Arab Emirates to Taiwan and the North Philippine archipelago, and from South Nepal to Indonesia (the islands of Java, Bali, Timor, etc.).
Papilio Palinurus Fabricius, 1787, known as the emerald swallowtail, is illustrated on the stamp with the face value of Lei 7.50.
Papilio ulysses (Linnaeus, 1758), is illustrated on the stamp with the face value of Lei 9. Is a species found in the humid tropical forests of East Indonesia (Moluccas Islands) to New Guinea and the Bismarck and Solomon Islands, and South to Northeast Australia (Queensland).
On the First Day Cover is illustrated the monarch butterfly – Danaus plexippus (Linnaeus, 1758), species widely distributed in the Western Hemisphere. In November 2009 it was one of two butterfly species to fly into space aboard the International Space Station on mission STS-129.
Romfilatelia thanks PhD Mihai Stănescu, Collections Manager, Lepidoptera, within the "Grigore Antipa" National Museum of Natural History for the good collaboration within this issue of postage stamps.
The philatelic issue will be available starting with Thursday, July 06th, 2023, in Romfilatelia's shops network in Bucharest, Bacău, Brașov, Cluj-Napoca, Iași and Timișoara and online on https://romfilatelia.ro/store/. 
For further information, please contact the Public Relations Office:
Tel: 021 / 336 93 92