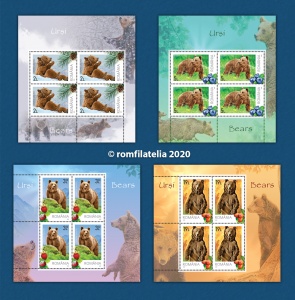 Romfilatelia continues the Fauna topic, highly appreciated by collectors, introducing into circulation, on Thursday, December 3rd this year, the postage stamps issue entitled Bears, consisting of four stamps depicting the brown bear, an emblematic species of wildlife in Romania. On the four stamps, having the face values of Lei 2, Lei 3.30, Lei 5 and Lei 19, the brown bear (Ursus arctos) is represented in four hypostases, corresponding to the four seasons that characterize the nature of Romania.
The brown bear is a species widespread in Europe, Asia and North America.
In Europe, its area has been continuously narrowing since Antiquity, with the reduction in forest area. Nowadays, the species is still present in about 20 European countries. Romania has one of the largest populations of brown bears in Europe, estimated at about 6,000 specimens.
The brown bear is one of the largest terrestrial carnivores. Males weigh 250-300 kg, and can exceptionally exceed 400 kg. Females weigh 150-250 kg.
They are massive animals, with a robust skeleton, with strong limbs, endowed with claws that can reach 10 cm in length. The head is large, with a broad skull. The dentition comprises 42 teeth.
The fur has different shades of brown – dark brown, reddish-brown, yellow-brown –, rarely, albino specimens can be found, whose fur is white-yellow. The fur is thick and can be 10 cm long.
Brown bears are omnivorous, having an extremely varied diet. In addition to animal feed (mammals, eggs and birds, fish, insects and their larvae), they also eat berries, acorns, conifer seeds, flowers and shoots, roots and tubers of plants, mushrooms. Especially in early spring, when they come out of their winter sleep, they often feed on the carcasses of animals that did not survive the winter. The proximity of human settlements causes bears to resort to other food sources: they often attack domestic animals, devastate apiaries, consuming both honey and bees – adults and larvae – and eat cultivated plants (corn and wheat, fruit).
They are solitary animals, males and females meeting only in spring, during mating. Females usually give birth to 1-3 cubs, which remain with the mother for about 2 years. In the wild, bears live 20-30 years.
Due to its size and strength, as well as its way of life, with an impact on human life, the bear often appears in popular mythology, legends, stories and customs, thus having, beyond its ecological importance in the ecosystems in which it lives, a special cultural importance.  
Romfilatelia thanks the "Grigore Antipa" National Museum of Natural History in Bucharest and photographers Silviu Matei , Zoltán Nagy and Daniel Petrescu for the documentary and photographic support granted to the achievement of this postage stamps issue.