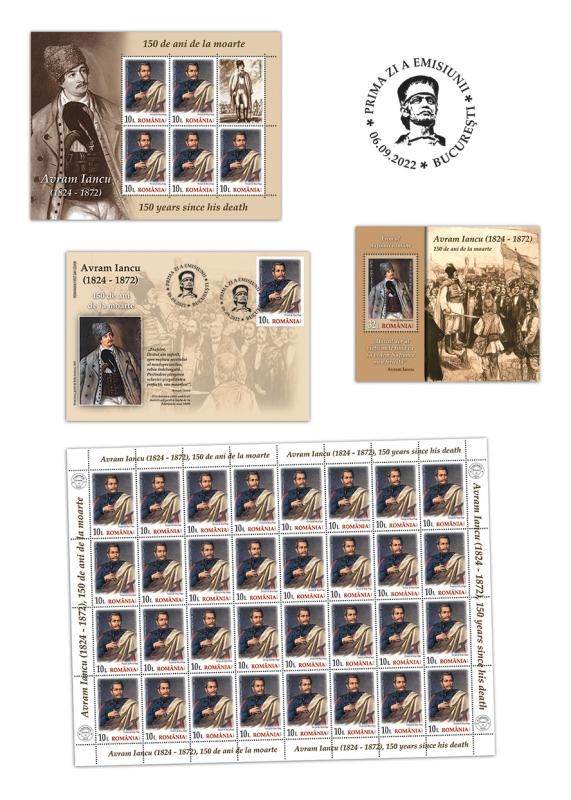 On the occasion of the 150th anniversary of the passing to eternity of the most beloved son of Transylvania, "The Prince of the Mountains" (in Romanian, "Crăişorul munţilor"), Avram Iancu, Romfilatelia introduces into circulation on Tuesday, September 6 of this year a commemorative issue with the generic title Avram Iancu, 150 years since his death.
The issue consists of a postage stamp and a perforated souvenir sheet, which have the face values of Lei 10 and Lei 32.
The portraits reproduced on the postage stamps depict the paintings belonging to the authors Mișu Popp and Barbu Iscovescu. The graphic next to the postmark of the perforated souvenir sheet reproduces a suggestive drawing for a speech of Avram Iancu in front of the Transylvanian patriots prepared for a combat action.
The First Day Cover of the issue, thematically illustrates the portrait of the National Hero of the Romanians on the faded background of the drawing also presented in the graphics of the philatelic souvenir sheet.
Avram Iancu was made of the tough essence fibre from which Romania's illustrious personalities were moulded. He was known as a character who charmed the crowds, increasing thousandfold the thought that he embodied the great hope of liberation of a nation held for centuries in humiliation and slavery.
He is the one who inoculated in the soul of Transylvania the consciousness of masters from the royal race that once shone in the proud kingdom of Dacia.
Romfilatelia thanks the Romanian Academy Library, the National History Museum of Romania, the National Museum of the Union in Alba Iulia, and Mr. Daniel Iancu PhD., scientific researcher within the Museum of Dacian and Roman Civillisation in Deva, for the documentary and photographic support provided for the development of this postage stamps issue.
The philatelic issue will be available starting Tuesday, 6th of September, in Romfilatelia's shops network in Bucharest, Bacau, Brasov, Cluj-Napoca, Iasi and Timisoara and online on https://romfilatelia.ro/store/.
For further information, please contact the Public Relation Office:
Tel: 021 / 336 93 92