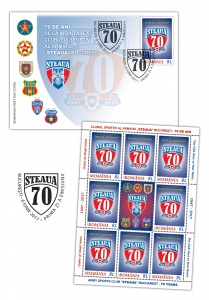 Romfilatelia introduces in circulation, starting Tuesday, June 6th, 2017,  the philatelic stamp issue "STEAUA, 70 years from its foundation", available in Romfilatelia stores from Bucureşti, Bacău, Braşov, Cluj-Napoca, Iaşi, Timişoara.
Set up on June 7th, 1947, the Army Sports Club "STEAUA" emerged from the desire to provide young athletes engaged in military training, the opportunity to do sports and also, from the initiative to support the development of talents and performances in sport for the permanent army staff.
The history of the club begins with a first football section, followed by horse riding, fencing, tennis, boxing, volleyball, athletics and shooting. Gradually, sports disciplines such as: motorcycling, rugby, handball, basketball, cycling, swimming, wrestling, canoeing, canoeing, gymnastics, weightlifting and many more joined.
Over time, even though it has changed its name, this institution has remained dedicated to the army, being constantly completed by the ambition of achieving sport excellence.
Since October 2001, it has been named Sports Club Army "Steaua" Bucharest, whose main objective is to promote mass sport, performance, positive competition and fair play.
Today, STEAUA is proud to possess an impressive record, including numerous gold, silver and bronze medals, both in internal and international sports competitions such as Olympic games, world and European championships.
Numerous representatives of the Sports Army Club Steaua Bucharest have transmitted to many generations of Romanians the excitement and the joy of their victories obtained in various sports competitions, thus made us feel the pride and the satisfaction of hearing the anthem of Romania on numerous stadiums and arenas.
For seven decades of gold chapters written in the history of Romanian sports, we thank you.
Happy Birthday, Steaua, history continues!
This anniversary stamp issue consists of a stamp with a nominal value of 8 lei, illustrated with the anniversary logo of the spots club, in its distinctive color: red, blue and white, under the slogan: "History Continues".
The issue is completed by a first day cover and as page composition were used the sheet of  32 stamps and minisheet of 8 stamps + 1 label.

Romfilatelia thanks to the "Steaua Bucharest" Army Sports Club for the documentary support given for this stamp issue.
Pentru informaţii suplimentare, vă rugăm contactaţi Biroul Relaţii Publice:
Tel: 021 / 337 24 42