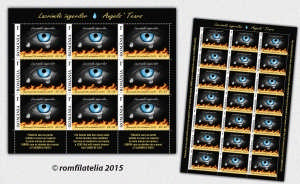 In a moment of destiny, a huge flame erupted from the darkness of nothingness, spreading suffering and death.
The last notes of an engaging song, which floated over the scene and optimistic figures, faded into a furnace of fire where helpless beings were trying to find the road towards life.
In the cool beyond the walls of the enclosure where the rain of fire was counting its victims, fellow beings frozen in pain would try their hardest to bring relief and hope to those exiting the earthly hell.
A boundless compassion and solidarity, rare in a world ruled by an obvious apathy and indifference, suddenly came into being after hearing the tragic news that reminded of the young ages of those missing or seriously injured.
Although, accepting fatalism, one may consider that everyone's life hangs by a grain of sand, it is necessary that we, who dwell by those in mortal danger, do all that is humanly possible so that that thread doesn't break.
Souls detached from bodies took on the glide of angels towards the heights of eternity and left in the hearts of those who loved them, along with pain, strong, everlasting ties.
Tears and sorrow accompanied the tragic disappearance of loved ones, but the flames that bore their souls to the heavens also rekindled the love of mankind in our hearts, a LOVE that will remain forever the FLAME OF LIFE.
By introducing into circulation the postage stamp issue ANGELS' TEARS, on November 20th, 2015, Romfilatelia shows its compassion for the suffering of an entire nation and wants to contribute, by its specific activity, to raising awareness and encouraging the most sincere feelings and acts of love for our fellow beeings in great need.
You can join us by supporting this philatelic charity campaign, which will run from November 20th to December 31st of this year. The funds from the sale of the philatelic issue run printing will support the medical recovery process of the tragedy's victims from the Colectiv club (October 30th, 2015).
Issue date: 2015-11-19