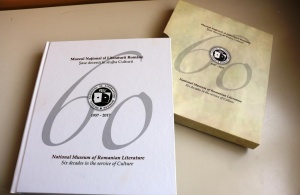 From June 9th to 18th June, 2017, in the heart of Transylvania, takes place the well-known International Theater Festival in Sibiu.
Romfilatelia has created a postal stationary dedicated to this event, which this year unfolds under the title "Love". In these more than 10 days of the festival, there will be performances of theater, dance, circus and music, street shows, reading shows, special conferences, book launches, workshops, films, the meeting of theater and cultural management academies or the Sibiu Spectacles Fair.
Romfilatelia, as a traditional media partner of the Festival, was invited to the cultural events from the opening of the Festival, joining the audience that was in the first hours of the evening on Pedestrian Nicolae Balcescu in Sibiu.
The festival started on Friday, June 9th this year in the Great Square with the sensational motorcycle spectacle on the new unique tower in the world, continued with a "foray into the abyss", a fascinating world, lost in the depths, which we cannot reach. A parade of impressive lights moves through the night, carried by the taiko drum rhythms and electro sounds, accompanied by the Great Devils on stilts, jellyfishes, brilliant stars and a majestic sea horse.
The dance of the Waka Chiré Band in Guadeloupe, the bears' dance from the Pyrenees, the masks exhibited through the city gave a touch of color and rhythm to the Festival. Misia, the Portuguese artist, has brought silence and charm into the hearts of all, within an emotional concert in which she has gone the musical journey from fado to tango.
The first evening of FITS 2017 ended with a fireworks show offered by the organizers to all those who live these days the joy of giving love through the performing arts.
"The first evening of the festival showed us a month much as our heart, a celebration of our theme this year, love. FITS brings, every time, joy to all participants: we had all the tickets sold out at the daily shows and we hope that this special and honest gift represented by this festival is still preferred by all those present in Sibiu during this period", said FITS President Constantin Chiriac.
Come to the theater! Visit the festival site, here and choose from a wide range of shows, the one that suits for you.