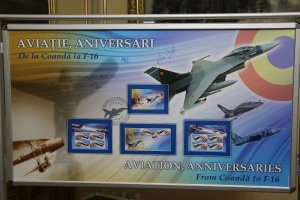 On Friday, October 7th, 2016, in the Palace of the National Military Circle, Eroilor Hall, took place the launching event of the postage stamp issue Aviation, Anniversaries. From Coanda to F-16. The ceremony was attended by several Romanian and foreign officials: the National Minister of Defense, Mihnea Motoc, the Portuguese Minister of Defense, José Alberto de Azeredo Lopes, the Chief of the Romanian Army's General Staff , General Nicolae Ionel Ciuca, the Chief of the Romanian Air Force Staff, General-Major, Laurian Anastasof, and the Chief of the Portuguese Air Force Staff, General Manuel Teixeira Rolo.
The list of participants was completed by important representatives of the Romanian Government, of the Diplomatic Corps and representatives from aviation and aeronautics, such as the minister of foreign affairs, Lazar Comanescu, the Romanian Ambassador to Portugal, Ioana Bivolaru, the Portuguese Ambassador to Bucharest, João-Bernardo Weinstein, the deputy chief of the US diplomatic mission, Dean Thompson, Lockheed Martin Aeronautics' Vice-president, Susan Marie Ouzts, many other representatives of the Romanian Air Force, etc.
The philatelic project was designed to mark the entry of F-16 jets in the endowment of the Romanian military aviation, and also to mark another important anniversary in this field, the celebration of 130 years since the birth of Henri Coanda, pioneer of aviation, the father of jet aircraft and discoverer of the effect which bears his name.
The evening was opened by the CEO of Romfilatelia, Cristina Popescu, who had a brief speech: "The stamps are the country's symbols and it is a great honour to be present at an important event of the Romanian aviation in this evening. The stamp travels, just like a plane, it sends messages and creates links not just between collectors, but between people from all around the world.", declared Ms. Cristina Popescu.
At the end of her speech, the CEO invited the two ministers and the two Air Force Chiefs to unveil the philatelic panel dedicated to the project Aviation, Anniversaries. From Coanda to F-16. Likewise, the Chief of the Romanian Air Force, General – Major Anastasof, cancelled the elements of the issue, and thus, the two moments have symbolized the official introduction into circulation of the stamp project.
Ending the ceremony, Romfilatelia's CEO offered the four officials a collection philatelic gift, consisting of the issue's elements, the entire event remaining vivid in the memory of all participants, but also in the photos taken on this occasion.
The stamp continues to be the messenger of Romanian achievements from all areas of activity, sending real and important lessons of national history to future generations.