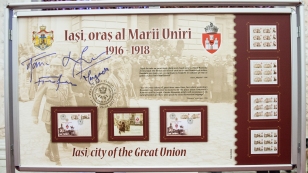 On Wednesday, April 26th, 2017, a joint formal meeting was held in Parliament's plenary session dedicated to the Centenary " Iasi – Capital of the Kingdom of Romania 1916-1918 and the City of the Great Union" followed by a festive launching of the philatelic issue "Iasi, City of the Union", in the foyer of the Plenary Hall of the Chamber of Deputies.
At this event, organized under the patronage of the both Romanian Parliament's Chambers, Mr. Calin Popescu Tariceanu, President of the Romanian Senate, Mr. Liviu Dragnea, President of the Chamber of Deputies, The Custodian of the Royal Crown of Romania, HRH Crown Princess Margareta, His Eminence Teofan, Metropolitan of Moldavia and Bukovina, representatives of the diplomatic corps, numerous deputies and senators.
The Senate Vice-President Mrs. Iulia Scantei, as the initiator of this philatelic project, opened the launching ceremony, and invited Mrs. Cristina Popescu, General Manager Romfilatelia, to present details about this anniversary moment and thematic anniversary stamps that are introduced in circulation.
Appreciating the initiative of both heads of the Senate and Chamber of Deputies to host this event, General Manager Cristina POPESCU thanked to Senator Iulia Scantei and to Mr. Nicolae Sorin M      argarit for the documentary support granted in the creation of this postage stamp issue.
"The philatelic issue that we are going to launch today is part of a series of philatelic projects that bring together elements of Romanian history and culture, heroes and facts that we should never forget. Today we return through stamps, to the atmosphere of a century ago when, for the dream to unite all Romanians in one state, King Ferdinand I and the Government retreated to Iasi, this part of Moldova being the only part of Romania unoccupied by the German troops
These pages of history are reproduced in a suggestive manner on four stamps, as well as on the issue souvenir sheet, I would also like to mention the special product, the anniversary philatelic album that brings together the products of philately and numismatics in common themes.
"By this stamp issue we aim to be the messenger of the pride of being Romanian!" said Mrs. Cristina Popescu.
At the end of the event, Romfilatelia General Manager invited the President of the Senate and the President of the Chamber of Deputies, Her Royal Highness and the Metropolitan of Moldova and Bukovina to unveil the anniversary philatelic panel and stamp the issues elements. These two moments officially symbolises the introduction into circulation of the postage stamps issue.
The festive launching of the stamp issue "Iasi, City of the Great Union" ended with a photo session, which brought together again the main actors of this important philatelic project.