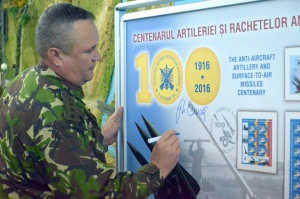 On Monday, September 19th, 2016, the Romanian stamp marked the celebration of 100 years since the establishment of the Romanian Artillery and Anti-aircraft Missile branch, in a festive atmosphere at the "Brigadier General Ion Bungescu" Training Camp and Air-Ground Shooting Range, Capu Midia.
Romfilatelia, as a constant promoter of events representing significant national moments and stages, joined, through its field of activity, this important celebration, emphasizing the
Anti-aircraft Artillery and Surface-to-Air Missiles centenary through a philatelic anniversary project.
The event gathered representatives from the Ministry of National Defence, General Staff, Land Forces Staff and Air Force Staff, and started with a series of speeches and a decoration ceremony of several military units.
Romfilatelia's moment was next, the anniversary postage stamp issue's launching and introduction into circulation taking place in the presnce of the Chief of General Staff, General Nicolae-Ionel Ciuca, and the Deputy Chief of Air Force Staff, Brigadier General Dan Cavaleru.
The two officials appreciated the anniversary stamp issue, thanking Romfilatelia for its initiative to design this project and for its constant mission of treasuring important national events of the postage stamp.
Further on, Romfilatelia's CEO, Ms. Cristina Popescu, mentioned in her speech that the postage stamp issue is the result of a great collaboration with the Air Force Staff, being available for purchase starting with September 19th:
"What we promote by this issue is the result of a successful collaboration with the specialists and Chief of Air Force Staff, and I want to thank them all for their support in creating this project.
Starting today, September 19th, the postage stamp issue can be found in all postal offices in Bucharest and throughout the country, the Romanian stamp being honoured to add to the philatelic heritage a new page of national history and also to record the anti-aircraft gunners' feats of arms in the valuable stamp collections of the Romanian people."
Moreover, Ms. Popescu also spoke about a future philatelic project which is to be designed as well on the topic of aviation:
"The project The Anti-aircraft Artillery and Surface-to-air Missiles Centenary will be continued on October with a new philatelic surprise, which will be dedicated to several important aviation anniversaries, where the stamp will be the messenger of a both important and captivating area, under the generic concept From Coanda to F-16."
The philatelic moment ended with the unveiling of the anniversary panel, the two officials marking and dating the project with the traditional "first day" postmark, the event ending with a series of demonstration combat exercises.