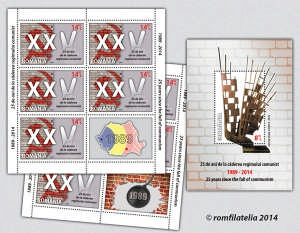 On the occasion of 25 years since the Revolution of December 1989, Romfilatelia dedicates to this event the postage stamp issue "25 Years since the Fall of Communism".
It is well known that the Revolution of 1989 marked the history of the Romanian people and brought our country back among the European democracies, after more than four decades.
December 1989 is part of the revolutionary wave that completely changed the situation of the countries of Central and Eastern Europe, and whose outcome was the removal of the Communist regime and the establishment of democracy and freedom, according to the peoples' will. Beyond the major political change, the return to democracy represented, in Romania and for the Romanian people, a new beginning and a return to a tradition interrupted in1945: that of political pluralism, of debate, and of free participation in determining their own destinies.
The philatelic issue consists of a postage stamp and a souvenir sheet illustrating symbolic messages, representative for both the memory of the 1989's events, and their heritage and importance for today's generation and those to come.
The postage stamp of the issue with the face value of lei 14.50 illustrates in a graphic, symbolic manner the number "XXV" meant to mark 25 years since the Revolution of December 1989, when Romanians of all ages have promoted and defended, even at the cost of their life, the ideal of freedom of the Romanian people. The preference for the Roman numeral has a double meaning: the Roman numeral XX as a sign of denial of the Communist regime cancelling the oppression wall, and the Roman numeral V as a symbol of winning victory and freedom, also reminding nowadays's youth that they are the representatives of the post-revolutionary democratic Romania.
The postage stamp of the souvenir sheet with the face value of lei 8.10 illustrates the masterpiece Wings (The Monument of the anti-Communist Fight) belonging to artist Mihai Buculei, a symbol of the fight against the Communist regime and a huge tribute to the sacrifice of those who contributed in achieving democracy and were willing to fight and die for this ideal. The wings oriented towards the sky symbolize the victory of the Romanian people and the redeemed spirit rescued through unwavering faith.
Romfilatelia thanks the Romanian Foundation for Democracy, Mr. Vlad Costin Gheorghe and Ms. Corina Julan for the documentary support granted in the accomplishment of this postage stamp issue.
Issue date: 2014-11-20