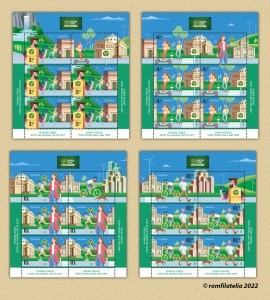 Romfilatelia once again urges responsibility for environmental protection, joining the "Green Friday" campaign, initiated by the Ministry of Environment, Waters and Forests, through the postage stamps issue with the theme: "Give your car a day off!", which will be put into circulation on Friday, January 28th a.c.
The images of the four stamps of the postage issue, having the nominal values of: Lei 3.50, Lei 4.50, Lei 10 and Lei 10.50, visually gives suggestive graphic elements of supporting this action.
The Ministry of Environment, Waters and Forests (MEWF) initiated and launched the "Green Friday" campaign on the 12th of March 2021 in order to promote alternative means of transportation. The campaign, baring the slogan "Give your car a day off!", urges employees of the public sector in Romania to use alternative means of transportation instead of cars on Fridays in order to decrease pollution and lower carbon emissions and encourage the use of pedestrian traffic for the benefit of health.
Air pollution is a serios issue in urban Romania and road traffic is a major factor in this field, contributing to a major part of the emissions. Taking into consideration that in urban center personal automobiles have become the preferred means of travel for most when commuting to and from their place of work, using alternative means of transportation can have a benefic effect on air quality and health.
Even though public policies have been put into place by authorities to diminish air pollution, employees of these authorities can themselves have a serious impact on lowering carbon emissions. The "Green Friday" campaign prompts these employees to come to work on Fridays using a bicycle, public transport or electric vehicles. Throughout the campaign many central and local authorities have adhered to the initiative showing their dedication to a better environment.
Using this campaign, MEWF wishes to raise awareness about the need to improve air quality, but also about each person's responsibility toward protection of the environment. The MEWF feels that the examples of the employees of public authorities can contribute to the change in the public's attitude toward urban travel. This strife will be paired with several measure prepared by the MEWF to bolster use of electric cars, bicycles, scooters and public transportation.
MEWF's message is also conveyed towards companies and organizations who are welcome to join the initiative. Thus the concept about a healthy environment and the eco-friendly means of travel can reach more and more people.
Romfilatelia thanks the Ministry of Environment, Waters and Forests for the documentary support granted in the achievement of this postage stamps issue.