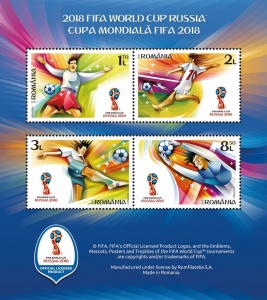 On the occasion of the 21st edition of the 2018 FIFA World Cup TM, Romfilatelia introduces into circulation the postage stamp issue dedicated to this competition, equally representing a joyful opportunity for both football fans and philatelists.
The new issue will be available on Thursday, June 7th, 2018, in Romfilatelia' own shops network in Bucharest, Bacau, Brașov, Cluj-Napoca, Iași and Timișoara and online on https://romfilatelia.ro/store/.
The postage stamp issue will also be presented at the philatelic international fair "Paris-Philex 2018" to which Romfilatelia participates. Paris-PHILEX 2018, in the tradition of the great philatelic exhibitions, brings together exhibitors from all over the world who have the same mission: to satisfy the passion of the philatelists. The fair takes place June 7-10 and Romfilatelia is present at the A13 stand.
The four postage stamps of the issue illustrate in a stylized manner, the dynamics of a football game. Considered a social phenomenon, football, the most popular sport in the world, watched by millions of people, is part of the team sports, which is based on a simple and accessible regulation.
FIFA World Cup TM is the most important football competition between the national teams of the FIFA member states, the world football governing body. The competition takes place in two stages: the preliminary stage (qualifications) and the final tournament, organized every four years.
The current FIFA World Cup Trophy, created by the Italian sculptor Silvio Gazzaniga, is considered a true work of art. Made of 18-karat gold, it represents two stylized human figures, holding the Earth. For the safety of the trophy, the winning team receives a Gold-Plated Cup, the original remaining at FIFA headquarters in Zürich, Switzerland.
The first edition of the FIFA World Cup TM took place in 1930 in Uruguay, and the most recent in 2014, in Brazil.
This year, the final tournament will take place from 14th June to 15th July and will be hosted, for the first time in the history, by the Russian Federation. The event will be attended by 32 national teams from all continents, of which 14 European teams, 5 from South America, 3 from Central and North America, 5 African teams, 4 Asian and Australian teams.
The 2018 FIFA World Cup TM games will be played on 12 stadiums from 11 cities: Ekaterinburg, Kaliningrad, Kazan, Moscow, Nizhny Novgorod, Rostov, Sankt-Petersburg, Samara, Saransk, Sochi and Volvograd. The organizers expect over 1,000,000 tourists for this competition.
The opening match of the final tournament will be played at the Luzhniki Stadium in Moscow, between the host country, Russia, and Saudi Arabia. The final of the FIFA World CupTM will also take place here, on July 15th, 2018.
The postage stamp issue is completed by a First Day Cover and a block of 4 stamps and as page composition there were used a sheet of 32 stamps and a minisheet of 6 stamps.
For further information, please contact the Public Relation Office:
Tel: 021 / 337 24 42
roxana.herascu@romfilatelia.ro