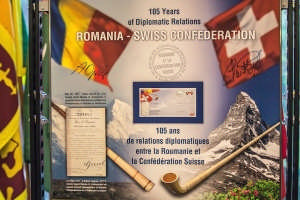 On Thursday, 16th of June this year, at the headquarters of the Universal Postal Union in Bern, the philatelic exhibition dedicated to the anniversary of 105 years of diplomatic relations between Romania and the Swiss Confederation was held, the event being organized by the Romanian Embassy in Berne and the Universal Postal Union, occasion to remind ourselves the fact that Romania, together with the Swiss Confederation are founding members of UPU, by signing in 1874 the Establishment Treaty.
The event, organized by the Romanian Embassy in the Swiss Confederation represented by Mrs. Anca Opris, Ambassador, was attended by Mr. Pascal Clivaz, Deputy General Director of UPU, host of this event, and consisted in an exhibition of diplomatic and philatelic documents, an exhibition of sculptures produced by Mrs. Andreia Bove and an occasion to celebrate and promote the traditional Romanian blouse, IA.
At the time of the anniversary, Romfilatelia represented by Mrs. Cristina Popescu, CEO, was invited to present the postal stationary, occasionally cancelled in gold foiling, the panel graphic having specific elements of culture and traditions of both countries and being signed by the two officials that attended the event.
In her speech, Romfilatelia's CEO reiterated the role of postage stamp as a bridge between nations, highlighting the 12 years path since the establishment of Romfilatelia, during which the company and the Romanian postage stamp became strong supporters of national and international values, the stamp being a true ambassador of outstanding events meant to place Romania on the world map.
In organizing the philatelic event, Romfilatelia benefited from the support of colleagues from the Universal Postal Union: Mr. Louis Virgile, Programmes' Manager Philately and International Reply Coupons and his colleague, Mrs. Lisa Salcedo, Philately Assistant.
Mr. Jean Pascal Clivaz, Deputy General Director of UPU mentioned the active presence of Romfilatelia in the World Association for the Development of Philately (WADP) – body within the Universal Postal Union, highlighting Romania's important contribution and expressing his hope for also an active presence of our country at the Congress in Istanbul this year.
Representatives of the diaspora in the Swiss Confederation, President of the Romania-Switzerland Parliamentary Friendship Group and MPs – group members, executives and diplomats from Federal Department of Foreign Affairs, foreign ambassadors and diplomats accredited in Bern and Swiss media representatives were also attending the event.
The presentation of the postal stationary by Romfilatelia has written a new page in the history of bilateral relations, the two countries' stamps journey ending at UPU headquarters, organization that coordinates the activities of member postal administrations.
Demonstrating once again its genuine qualities of instrument of cultural diplomacy, the Romanian stamp always accompanied the most important anniversaries of our country and filled with elegance and presence essential moments in the history of the Romanian people.
Romfilatelia's thanks goes to both the colleagues from the Universal Postal Union, and Mr. Marcel Ban, Engineer, passionate philatelist and representative of the Romanian Community in Switzerland who provided photographic support within the event.
---
Video
---