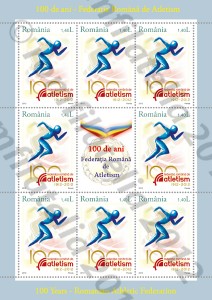 The first organised athletic competitions (the Olympic Games) took place inAthens, in 776 B.C. At the beginning, the first athletic trial was running and, afterwards javelin throw, discus throw and jumps were added. In 394 A.D., the Olympic Games were forbidden by the Romans, who replaced them with their own competitions and gladiators fighting.
After 1,500 years of interruption, in 1896 the (modern) Olympic Games were resumed inAthensand athletics became the main sports of this competition.
The first athletic competition took place inBucharestin 1882, with the participation of pupils fromBucharesthigh-schools.
In 1912, the Commission for Athletics, Foot Running and Competitions was established within the Romanian Federation of Sporting Societies.
This Commission was, in fact, the precursor of the Romanian Athletic Federation, the 19th in the world, affiliated in 1923 to IAAF (International Association of Athletics Federations).
In 1914 the first National Championships of Romania were organised, containing 16 trials and, the following year, the first field for athletics was inaugurated inBucharest, on the ground of the future Tineretului Stadium.
Year 1928 marks the first Romanian representation at the Olympic Games in Amsterdam, and starting with 1930, the Romanian athletics receives the first medals at the Balkan Games in Athens.
The first years after the establishment of the Romanian Athletic Federation were years of training and raising the future Olympic, world and European champions.
Starting with 1952, the Romanian athletes take part in all official international competitions, each Romanian participation obtaining valuable medals and first places in the world classifications.
Undefeated in 140 domestic and international competitionsand setting 14 world records, Iolanda Balas-Söter is one of the greatest world athletes of all times.
Also, names like Doina Melinte, Gabriela Szabo, Lidia Simon, Lia Manoliu, Mihaela Penes, Maricica Puica, Paula Ivan, Viorica Viscopoleanu, Constantina Dita, Anisoara Cusmir (Stanciu), Nicoleta Grasu, Marian Oprea, Gheorghe Megelea, Carol Corbu are just a few of the great values of the Romanian athletics.
King of all sports, the athletics, found inRomaniathe passion of some people, who brought unforgettable performance in the history of world sports.
On the occasion of the centenary of the Romanian athletics, Romfilatelia introduces into circulation the postage stamps issue 100 Years – Romanian Athletic Federation.
We would like to thank the Romanian Athletic Federation for the support granted in the accomplishment of this postage stamps issue.
Issue date: 2012-04-20